The Chang Thai Bar and Restaurant
As a family and friends run independent business we bring you great, authentic Thai food served in the convivial atmosphere of our bamboo filled garden, heated patio area, relaxed lounge bar or more formal restaurant. Friendly service and the personal touch means we hope you will enjoy your visit and return again and again. Between our Bar and our Restaurant, we aim to offer a truly unique experience across taste, ambiance and style; we hope our website offers a slice of what we serve at Chang Thai Ludlow...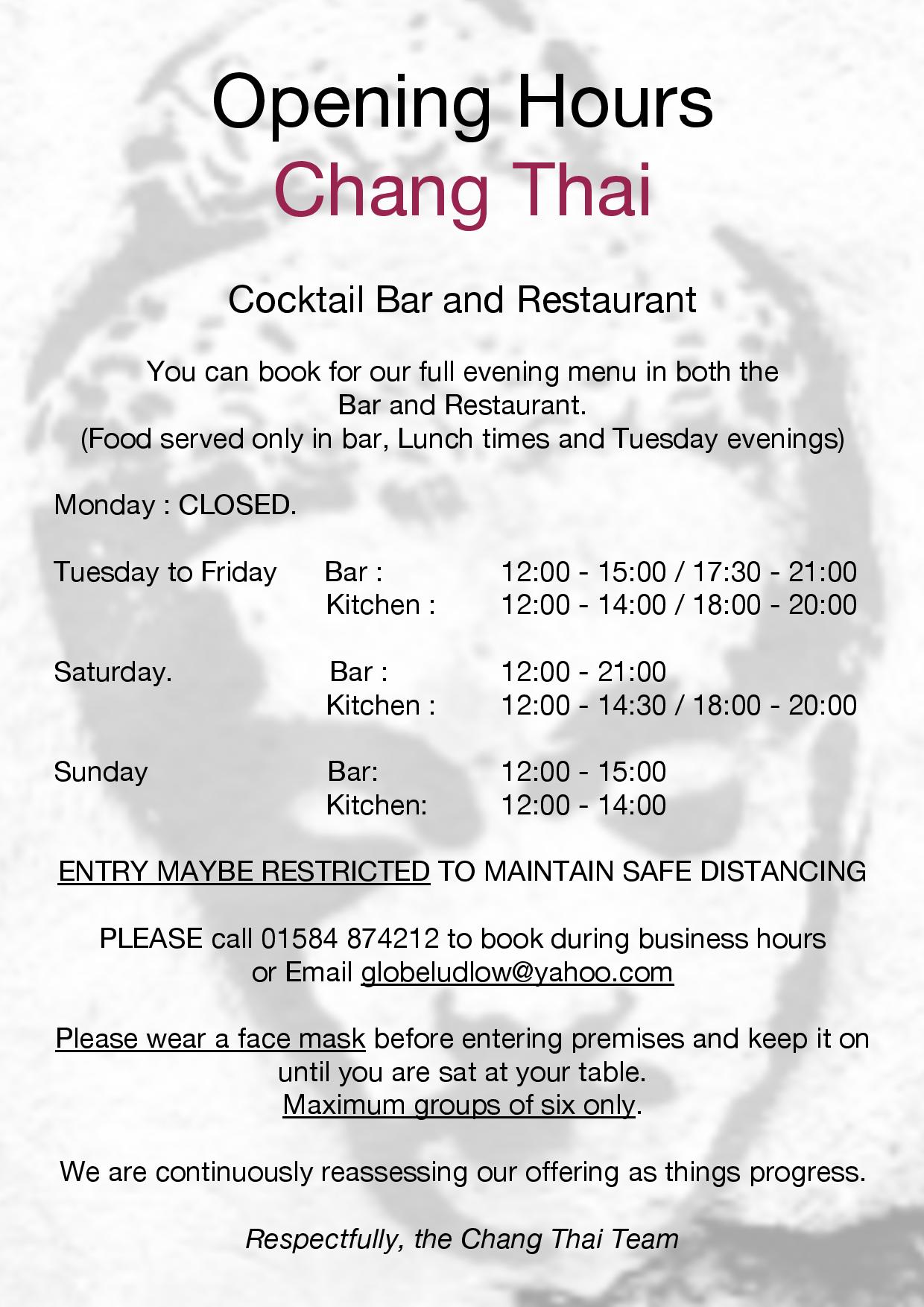 The Chang Thai & Covid
New restrictions will be in place from Thursday. As a business we have concentrated on a safe environment for our customers and staff and that has included closing by 22:00 already. However please note if your booking to eat you will need to have VACTATED the building by 22:00 therefore we will not be able to take bookings after 20:30 in both restaurant and bar.
Face masks must be worn when moving around the premises and only removed when sat at your table.
We will continue to offer table service but now with no exceptions.
Groups of six maximum has always been the rule in pubs but obviously now the law.
These are difficult times for everyone and it's expected that these will stay in place for about 6 months so please show patience and we thank you for your amazing support.
Due to the Covid restrictions
Make sure you book a table for
Cocktails and Tapas
From 7pm on Friday & Saturday Evenings
Download Our Menu
>> HERE <<
Book your table now on...
01584 874212
Or Email us
globeludlow@yahoo.com
Please be advised that we do not accept bookings via the website
A perfect gift for Birthdays, special occassions or simply as a treat for friends, family and loved ones; available in £10 or £20